McGill-Queen's University Press 335 pages, $19.95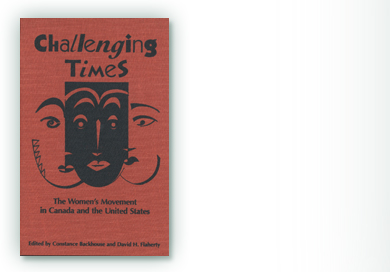 CHALLENGING TIMES offers a provocative and detailed overview of feminist movements in Canada and the United States. Through a series of essays that offer innovative interpretations and careful, original scholarship, the contributing authors compare and contrast the emergence and advancement of feminism in the two countries, taking care to explore both Francophone and Anglophone communities.

Many of the contributors to this volume have lived through and personally shaped the unfolding of the rich history of North American feminism. In addition to Backhouse and Flaherty, the contributors are Catherine A. MacKinnon, Greta Hofmann Nemiroff, Monique Bégin, Mariana Valverde, Naomi Black, Marjorie Griffin Cohen, Micheline de Sève, Micheline Dumont, Margrit Eichler, Sara M. Evans, Marianne A. Ferber, Lorraine Greaves, Marjorie Heins, M. Patricia Fernandez Kelly, Patricia A. Monture-OKanee, Arun Mukherjee, Jean F. O'Barr, Christine Overall, Glenda Simms, and Jill Vickers.