Vancouver: University of British Columbia Press, 2004, pp.321.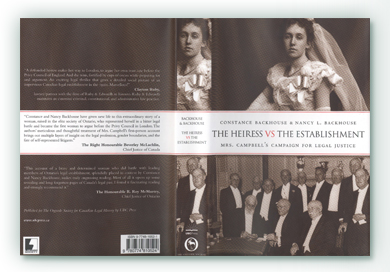 In 1922, Elizabeth Bethune Campbell, a Toronto-born socialite, unearthed what she thought was an unsigned copy of her mother's will, designating her the primary beneficiary of the estate. It was the start of a fourteen-year battle, as Mrs. Campbell tried to prove that her mother's trusted adviser, a prominent member of Ontario's legal establishment, had stolen funds from the estate. In 1930, she argued her own case before the Law Lords of the Privy Council in London. A Canadian, with no formal education or legal training, Campbell was the first woman ever to appear before them. She won.
Named by the Literary Review of Canada as one of five titles described as "books most likely to become classics of their kind" for the year 2004.
Selected by The Beaver magazine as a "Book Club Title," 2005.
Short-listed, Toronto Book Award, 2005.