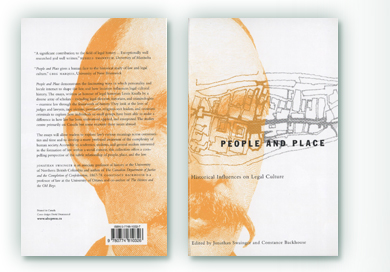 People and Place demonstrates the fascinating ways in which personality and locale interact to shape the law, and how location influences legal cultural history. The essays, written in honour of legal historian Louis Knafla by a diverse array of scholars - including legal theorists, historians, and criminologists - examine law through the framework of history.

They look at the lives of judges and lawyers, rape victims, prostitutes, religious sect leaders, and common criminals to explore how individuals or small groups have been able to make a difference in how law has been understood, applied, and interpreted. The studies centre primarily on Canada but some examine these issues abroad.

The essays will allow readers to explore law's various meanings across communities and time and to develop a more profound awareness of the complexity of human society. Accessible to academics, students, and general readers interested in the formation of law within a social context, this collection offers a compelling perspective of the subtle relationship of people, place, and the law.