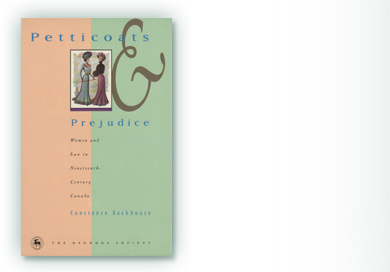 Euphemia Rabbitt, who courageously resisted a vicious rape attempt, and Clara Brett Martin, the first woman admitted to the bar in the British Empire, were widely admired in their own time. But Ellen Rogers, a prostitute who believed that all women should be protected by law from sexual assault and was viciously maligned for her ideas, and Nellie Armstrong, whose attempt to wrest her young children from her estranged and violent husband went down to defeat, were independently minded women hidden, until now, from historical records.

Each of these women's stories lends a new meaning and dimension to the word "heroism." Petticoats and Prejudice explores the legal status of women in nineteenth-century Canada by examining the cases of these and other individual women who were swept up into the legal process as litigants, accused criminals or witnesses.

Reviews (there are two available) »
Buy this book »

Awarded the 1992 Willard Hurst Prize in American Legal History by the Law and Society Association.